FLEXIBLE & POWERFUL PROJECT CONTROLS
All-in-one construction project management software
ProjectTeam.com is a fast, easy-to-use, and highly customizable construction project management information system (PMIS). Register for a live demonstration to see how ProjectTeam.com can help you exceed your program and project goals.
Get started with ProjectTeam.com
AN EXACT FIT SOLUTION
Build better with better project controls
ProjectTeam.com is a best-in-class construction project management information system (PMIS) built for the owner, architectural, engineering, and construction (O/AEC) community.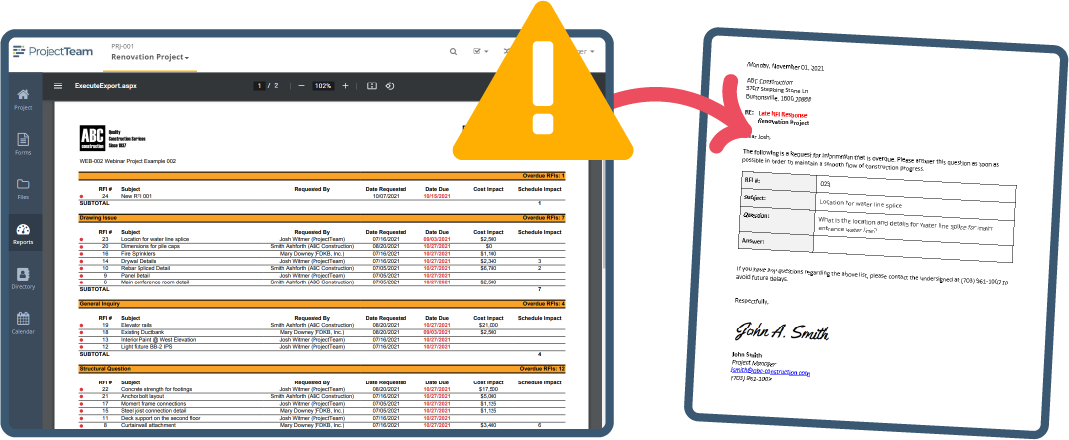 Make better, faster decisions
Leverage the knowledge of your team to manage every aspect of your projects and highlight issues before they happen.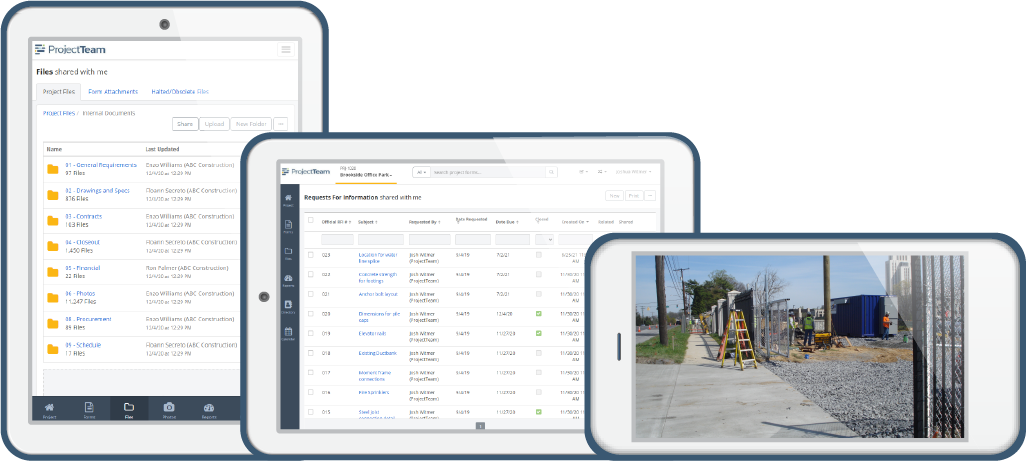 Track everything, everywhere
Whether on your computer, tablet, or phone, gain access to project information and updates on any device at any time.

Create, share, and update project information in real time, allowing for efficient collaboration on important tasks.
MODERN, SECURE, CLOUD-BASED PLATFORM
Powerful features. Easy to use.
ProjectTeam.com comes with industry-standard forms ready to go on day one of using the system. Expand the default functionality by adding custom fields to standard forms or creating custom forms. You have complete control over everything that happens on your job site.
Project Financials

Document Management

Unlimited Customizations

Reports & Dashboards
Connected and automated financial workflows
At the end of the day, one of the most important aspects of any construction project is accurately managing the project budget. For companies that don't have a connected project management platform, this means tracking costs in spreadsheets and other disparate tools. The result is outdated financial information and inaccurate forecasts.
ProjectTeam.com solves this by providing connected forms for tracking all financial-related information. In ProjectTeam.com you have access to standard forms including:
Budgets
Change Orders
Contracts
Payment Applications
Potential Change Orders
and more
Each form is interrelated and shares field data based on the status of each form. For example, you can import your original budget and then track amendments through account codes. When amendments are approved, they automatically relate back to your budget and update your revised budget fields. This keeps everything up-to-date and reliable in one single source of truth.
Leverage construction industry-standard forms
Managing project documentation is a full-time job for many construction organizations. Between emails, shared drives, and other disparate tools, information often falls through the cracks. While some companies might have processes in place to help keep things in order, most lack a powerful online system that manages company standards and supports their efforts through automation.
ProjectTeam.com is a leading construction project management platform designed specifically for the owner, architectural, engineering, and construction (O/AEC) industry. In ProjectTeam.com you have access to standard forms including:
Drawings
Field Reports
Punch Lists
RFIs
Specifications
Submittals
and more
Each form has related tools including visual workflows, action items, drag-and-drop attachments, collaborative comments, and reference links. In addition to various standard fields and tools included on each form, a full activity history is tracked so you always know who made a change and when they made that change.
Adapt the system to meet the needs of your organization. Not the other way around.
Most construction project management information systems (PMIS) have standard forms including RFIs, submittals, drawings, etc., each with a set of fields for you to fill out. They choose what is important and you are required to mold your business processes to their static system. The result is unhappy users because either they can't find a spot for certain data or they're confused because there are too many fields.
We take a different approach.
We know there is no way we could provide forms that cover every use case possible, so we provide the basics and let you easily customize the rest. When we talk about customizing forms in ProjectTeam.com, we're really talking about two main capabilities:
1. Add custom fields to existing forms
Administrators from your organization can build upon the industry-standard forms by adding custom fields. You can add text fields, dates, tables, picklists, checkboxes, numbers, and a lot more to each of your forms. You can also assign field-level security permissions for groups and users so only the appropriate users see your fields.
2. Create custom forms
When building custom forms, you have two options; build project-specific forms or build company forms. In either case, you can add an unlimited number of fields and rearrange those fields to match your business requirements. Every custom form you build inherits the same features as the standard forms including workflows, comments, action items, reference links, and attachments.
Turn data into decisions with best-in-class reporting tools
The report and dashboard tools available in ProjectTeam.com give you deeper insight into the overall health of your projects and organization. You can run prebuilt, system reports or create custom reports to meet unique requirements. When creating reports, you can drag-and-drop tiles and fields to configure your output to include pixel-perfect styles and formatting.
Your organization can format the styles of each report in ProjectTeam.com to match your brand and make sure the information displayed is most relevant to your goals. Any custom forms or fields added to your forms can also be included in your reports and dashboards. The field-level permissions you set on forms carry forward to the reporting area guaranteeing only the appropriate users have access to the data.
Running reports in ProjectTeam.com gives you a real-time, interactive view of your data. However, any report can also be exported to file types including:
PDF
RTF (Typically MS Word)
MS Excel
CSV
The easy export ability allows you to include decision-making data in presentations, meetings, and reviews. If there are reports you find yourself regularly exporting, you can set a schedule to have specific reports automatically delivered to any email address on a recurring day and time of your choosing.
REVIEWS FROM YOUR PEERS
ProjectTeam.com leads the pack

"ProjectTeam.com is easily configurable and will allow you to do business your way. The ease of use and flexibility of ProjectTeam.com truly sets it apart from the competition."
"Overall, ProjectTeam.com has allowed me to perform my job easier and spend more time actually leading and managing my projects. ProjectTeam.com is a total game changer."
"ProjectTeam.com, for the cost, is absolutely the best system on the market. ProjectTeam.com is feature-rich and the best function is its ability to be fully customized."
"ProjectTeam.com has been a wonderful addition to our firm. They have created a one-stop-shop for our team to conduct the majority of our project business making it easy for all to stay informed."
Ready for your demo?
See how our suite of tools can help streamline your project processes, foster collaboration, and improve project success with the click of a button.