Download the Official Construction Project Management Software Buyer's Guide
Download the Construction Management Software Buyers Guide to receive a comprehensive overview of best-in-class software offerings and give you a better understanding of what to look for to make a great decision. Over 20 pages of real-world use cases, examples, and tips for navigating your software buying journey.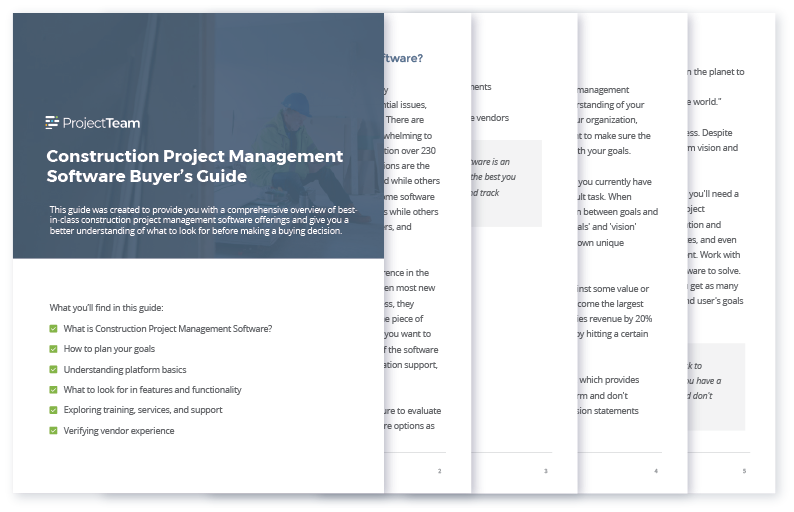 About ProjectTeam, Inc.
ProjectTeam is a leading construction project management platform designed specifically for the owner, architectural, engineering, and construction industry. ProjectTeam is built with the most modern and secure cloud technologies which means there is no software to install, updated to deploy, or physical hardware to manage.
Over the years, ProjectTeam has won many industry awards including:
"Most Promising Construction Technology" by CIO Review
"Construction Software Front Runner" by Software Advice
"Best Ease Of Use Construction Software" by Capterra
"Construction Software Leaders Category" by GetApp
For more information or to schedule a free demo, visit projectteam.com, email info@projectteam.com, or call (703) 961-1007.
What makes ProjectTeam.com different?
Investing in a best-in-class project management system can make a huge difference in the overall efficiency and productivity of your construction team. ProjectTeam.com is a system that users enjoy logging into which maximizes your return on investment (ROI).

Fast implementation
Get up and running in minutes with industry standard forms and reports

Data imports
Quickly import hundreds of existing records in one action.

Robust reporting
Turn flat data into actionable insights to show project health.

Unlimited invites
Invite users from other companies to collaborate on your projects.

Easy customization
Build custom forms or add custom fields to manage unique needs.

Visual workflows
Create step-by-step processes to flow project data to important users.

Formatted dashboards
Set up visualizations to help users identify risks and cost.

Best-in-class support
24/7 online help center and phone, email, and live chat support.
Trusted by industry leaders
Join thousands of companies that log into ProjectTeam.com every day to manage their projects.
"ProjectTeam.com is easily configurable and will allow you to do business your way. The ease of use and flexibility of ProjectTeam.com truly sets it apart from the competition."
"Overall, ProjectTeam.com has allowed me to perform my job easier and spend more time actually leading and managing my projects. ProjectTeam.com is a total game changer."
"ProjectTeam.com, for the cost, is absolutely the best system on the market. ProjectTeam.com is feature-rich and the best function is its ability to be fully customized."
"I have used other electronic project management systems and ProjectTeam.com is much more user friendly. I would highly recommend ProjectTeam.com and already have."
"Working with ProjectTeam.com is exceptional, as they are always working with their clients to make this the gold standard for web-based project management software."
"ProjectTeam.com has been a wonderful addition to our firm. They have created a one-stop-shop for our team to conduct the majority of our project business making it easy for all to stay informed."
Ready for your demo?
See what ProjectTeam.com can do for your organization by setting up a customized demo with one of our product experts.